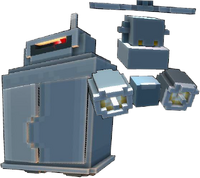 Every zone or biome in Trove has its own specific creatures and monsters, which can be more or less a challenge for the player. While most are hostile and will attack any nearby player, there are also a few which stray from this behavior. Killing creatures grants the player experience, a chance for equipment, and a chance for materials such as Glim, which are often used for crafting.
General Behavior
Hostile monsters are affected by the environment in the same ways as the player: they are subject to Environmental Hazards (mainly fall damage and lava), and they can be hurt by some of the same things that harm the player. All monsters are resistant or immune to certain hazards, such as spikes and Flame Turrets. Most monsters have an advanced pathfinding system that allows them to traverse complex mazes to get to the player but cannot jump up any higher than or equal to two blocks. They will also naturally avoid holes in the ground unless the player is in one of them.
For details on specific enemy behavior, see individual enemy pages, as well as AI.
Global Item Drops
Most enemies drop items when killed. Enemies that can drop items have several shared possible drops, in addition to unique resources that vary by enemy type. Enemy-specific drops are detailed on individual enemy pages; the rest can be seen here.
Some NPCs that drop loot such as Pinatas do not use these drop tables.
*Can only drop from elite enemies
**Prime World drop rate / Elemental World drop rate
List of NPCs
The creatures here are classified by the either the biome or situation where they can be found in or their type. For more details, click and view their individual pages.
Enemies
Enemies are (usually) hostile NPCs or entities. Most enemies can both harm and be harmed by players, with a few exceptions.
These only appear during specific seasons.
These are tied to specific events and/or Golden Thread objectives.
Pumpkin Patch Crawler
(Shadow's Eve only)
Pumpkin Floateye
(Shadow's Eve only)
Flamotron Mk II
(Snowfest 2016 only)
G.R.Y.P.H. 3000
(Snowfest 2016 only)
Ice Golem
(Snowfest only)

Da Rumpfus


(Snowfest only)

Mimic


(Snowfest only)
Tentacle
(St. Qubeslick's Day only)
These have been removed in past patches and can no longer be encountered naturally.
Unused mobs are found in the source code and/or game files, but are not being used at this time. Can be seen to have their own trophies or tied to certain events.
| | | | | | | | |
| --- | --- | --- | --- | --- | --- | --- | --- |
| | | | | | | | |
| Magma Maggot | Radiant Guardian | Radiant Sentry | Radiant Watcher | Shadow Lamprey | Skopekreep | Storm Dervish | Vesracna |
Hidden monsters are found in the source code and/or game files, but have no known plans for usage.
Bosses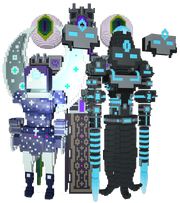 Bosses are large, powerful enemies that are usually rarer and/or only found in a specific location or during a specific event.
This list does not include dungeon bosses.
| | | | | | | | |
| --- | --- | --- | --- | --- | --- | --- | --- |
| | | | | | | | |
| Brawlobster | Fae Trickster Soul Hunter | Gunslinger Soul Hunter | Hel'Tarain | Jealousfish | Knight Soul Hunter | Mean Manta | Urmhalit |
Spawns
Spawns are enemies or entities that only appear when spawned by an enemy/boss ability or modification.
Hidden spawns are found in the source code and/or game files, but have no known plans for usage.
Allied NPCs
Allied NPCs help or interact with players in some way. Players cannot harm them directly.
| | | | | | | | |
| --- | --- | --- | --- | --- | --- | --- | --- |
| | | | | | | | |
| Battle Broker | Bomber Royale Merchant | Booradly | Club Combat Fixture Merchant | Club Decor Merchant | Club Merchant | Club Merchant Prince | Club Ultimate Fixture Merchant |
| | | | | | | | |
| --- | --- | --- | --- | --- | --- | --- | --- |
| | | | | | | | |
| Club Utility Fixture Merchant | Luxion of the Golden Hoard | Merchant of Marvels | Pinates the Purveyor | Radiant Merchant | Reliquary Merchant Thundros | Saltwater Sam | Shadow's Eve Event Barker |
| | | | | | | | |
| --- | --- | --- | --- | --- | --- | --- | --- |
| | | | | | | | |
| Amberine | Boulder | Crystal Guardian | Friend | Gabbro's Froleek | Gabbro's Hoppet | Gabbro's Zepperay | Lost Candy |
| | | | | | | | |
| --- | --- | --- | --- | --- | --- | --- | --- |
| | | | | | | | |
| Pebble | Pell, Exploration Expert | Percival | Sunseeker Gabbro | Sunseeker Guard (Bipedal) | Sunseeker Guard (Boulder) | Sunseeker Guard (Pebble) | Sunseeker Guard (Landing) |
style="margin:auto;text-align:center"

Relic Keeper Umber

Sous-Chef Saltina

Understudy Biol
| | | | | | | | |
| --- | --- | --- | --- | --- | --- | --- | --- |
| | | | | | | | |
| Sunkissed Froleek | Fresh Howlug | Ember Cragglepod | Curious Gleemur | Bouncy Hoppet | Amber Jelotl | Quizzical Qubrik | Zigzag Zepperay |
| | | | | | | | |
| --- | --- | --- | --- | --- | --- | --- | --- |
| | | | | | | | |
| Wistful Froleek | Glamorous Howlug | Roseflame Cragglepod | Impish Gleemur | Handsome Hoppet | Waverider Jelotl | Delicate Qubrik | Lithe Zepperay |
| | | | | | | | |
| --- | --- | --- | --- | --- | --- | --- | --- |
| | | | | | | | |
| Jubilant Froleek | Supersonic Howlug | Viridian Cragglepod | Shrouded Gleemur | Effervescent Hoppet | Spectral Jelotl | Enigmatic Qubrik | Majestic Zepperay |
| | | | | | | | |
| --- | --- | --- | --- | --- | --- | --- | --- |
| | | | | | | | |
| Autumn Pinata | Celebratory Pinata | Celebratory Pinman | Club Merchant Guard | Hero | Kevin | Qubesly | Party Animal |

Crystalline Merchant
|}