"
Use Tentacles of Q'bthulhu to randomize the 3rd and 4th stats on your equipment.
"
 

— Item Tooltip
The Chaos Forge is an item that can be made at the Adventurer's Crafting Bench. Its primary use is randomizing the stats of a player's equipment, making it a useful addition to your Cornerstone. Players can access the forge by pressing [E] while looking at the forge. Once there, players can use Flux and Tentacles of Q'bthulhu to randomize the third and/or fourth stats of the equipment piece.
Crafting
Crafted Using
Crafting Station
Adventurer's Crafting Bench
Ingredient(s)
Amount




Eye of Q'bthulhu
13




Infinium
30




Glim
100
Result
Chaos Forge
1
Chaos Forging
Usable Items
| Item | Description | Use |
| --- | --- | --- |
| Flux (10) | Forging Material. Gain it by deconstructing equipment. | Used for forging, upgrading, and modifying stats on gear. |
| Tentacle of Q'bthulhu (1) | Forging Material. Found rarely as a drop from Shadow Giants. Can also be found in Shadow Caches. | Used for modifying the third or fourth stat on an item. |
Modifying Stats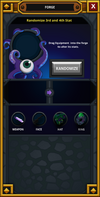 Players can modify stats on an item for the pleasure of achieving the item that best suits the player's play-style. You will need to use a Chaos Forge to randomize the third and/or fourth stats of the item. Randomizing stats will require flux and Tentacles of Q'bthulhu. Using the chaos forge on an item with only three stats can only change the third stat that is listed, however if an item has a fourth stat added with a Pearl of Wisdom it will change both the third and fourth. The second stat can only be rerolled during the Second Stat Reroll Weekly Bonus. Stat bonuses will carry on to the new stat. Note once the item has been modified in the chaos forge, it will automatically lock any changes made to the item.
See Also:
Community content is available under
CC-BY-SA
unless otherwise noted.