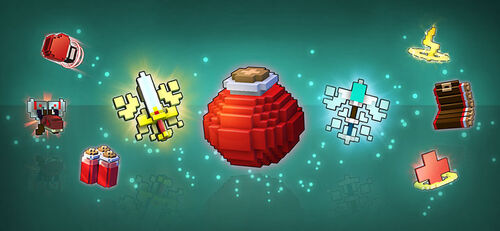 Flasks are the main type of recovery item that exists in Trove. As of the Monster Bash Update, there are a total of 15 different types of main healing Flasks (a.k.a. Vials) and 24 secondary flasks (a.k.a. Emblems) that add extra buffs to the flask. Player's start with the basic Elysian Flask, and can purchase any primary or secondary flasks through the Store with Cubits/Credits and/or the Weaver of Wonders for Fragments of Wonder. Some of the main flasks have different capacity numbers, but all can be increased by gaining extra flasks through Mastery.
The vials can fill your health when used by pressing "Q". It starts with specific charges but increases with higher Mastery. This item can be refilled at Rejuvenation Station by pressing "E" at it. Once any vials have been used, the emblem will trigger along with it.
Players can equip one Vial Flask and two Emblem Flasks.
Once a Vial Flask or an Emblem Flask is purchased, it becomes available to all owned classes.
Unless otherwise specified, all vials and emblems are worth 25 mastery points each.
NOTE: players who had previously obtained the flasks before the update WILL be rewarded the Vials/Emblem equivalent.
List
Item

Bonus Effects
Obtained
Elysian Flask
40%
8
Available by default
Non-tradable
0 mastery points
Elysian Bandolier
20%
18

 

750

 / 

 

7,500
Adventure Pack
Non-tradable
Balanced Elysian Flask
40%
12

 

750

 / 

 

7,500
Adventure Pack
Non-tradable
Elysian Jug
100%
8

 

750

 / 

 

7,500
Non-tradable
Death-Defying Vial
30%
10
One charge is automatically used when health is low (except on the Daughter of the Moon's sword attack and Darknik Dreadnought's Nuke)

 

2,000

 / 

 

20,000
Non-tradable
Vial of Unleashed Power
50%
0*
Triggers the equivalent of one charge when the user's Ultimate skill is used, without using a charge
Bought from the Weaver of Wonders
Vampiric Vial
40%
8
Chance of recovering one charge on defeating an enemy
Bought from the Weaver of Wonders
Valorous Vial
40%
8

5% chance of recovering one charge on dealing a critical hit

Has a cooldown of 15 seconds.

Bought from the Weaver of Wonders
Condensing Vial
50%
7
Recovers one charge every 45 seconds
Bought from the Weaver of Wonders
Evasive Vial
40%
8
Chance of triggering a heal and random Emblem effect when dodging
Bought from the Weaver of Wonders
Conjurer's Crucible Vial
40%
8
Chance of recovering one charge when the user's Magic Find is triggered
Bought from the Weaver of Wonders
Quester's Vial
40%
8
Chance of recovering one charge on completion of a quest
Bought from the Weaver of Wonders
Vanguard Vial
30%
10
Triggers one random Emblem when damaged in combat for the first time
Bought from the Weaver of Wonders
Chaos Vial
20%
15
Triggers an additional random Emblem when used
Bought from the Weaver of Wonders
Vial of Minion Multiplication
30%
10
Doubles the minions spawned from any minion Emblems when used
Bought from the Weaver of Wonders
*Additional charges earned through Mastery/Patron are halved while using this vial
Item
Effects
Obtained
Notes
Energetic Emblem
Temporarily boosts your Energy Regeneration

 

1000

 / 

 

10,000
Non-tradable

Lasts 10 seconds
Boosts Energy Regeneration by 50%

Restorative Emblem
Temporarily boosts your Health Regeneration

 

1000

 / 

 

10,000
Non-tradable

Lasts 10 seconds
Doubles Health Regeneration

Trailblazing Emblem
Grants a boost to Jump and Movement Speed

 

1000

 / 

 

10,000
Non-tradable

Lasts 10 seconds
Boosts Jump by 5
Boosts Movement Speed by 20

Arcane Emblem
Doubles Magic Damage temporarily

 

1000

 / 

 

10,000
Non-tradable

Lasts 3 seconds
Increases damage by 250%

Martial Emblem
Doubles Physical Damage temporarily

 

1000

 / 

 

10,000
Non-tradable

Lasts 3 seconds
Increases damage by 250%

Zealous Emblem
Restores all spent energy

 

1000

 / 

 

10,000
Non-tradable
Unyielding Emblem
Grants a brief invulnerability shield

 

1,000

 / 

 

10,000
Non-tradable
Soothing Rain Emblem
Restores 10% health to all nearby allies

 

1000

 / 

 

10,000
Adventure Pack
Non-tradable

Area radius of about 4 blocks
Does not work on Tomb Raiser's minions

Energizing Rain Emblem
Restores 20 energy to all nearby allies

 

1000

 / 

 

10,000
Adventure Pack
Non-tradable
Repulsing Emblem
Pushes nearby foes away from you

 

1000

 / 

 

10,000
Adventure Pack
Non-tradable

Pushes foes away by about 4 blocks

Chronomantic Emblem
Reduces the cooldowns of all your abilities

 

1,000

 / 

 

10,000
Non-tradable

Reduces cooldowns by 7 seconds (about 18% of Ultimate abilities)

Shadow Shrike Emblem
Summons a temporary damage dealing ally to fight for you. This ally deals damage based on your Physical Damage.

 

1,000

 / 

 

10,000
Non-tradable

Lasts 10 seconds
Uses a melee attack
Re-use while active will despawn current minion

Sorcerous Servant Emblem
Summons a temporary damage dealing ally to fight for you. This ally deals damage based on your Magic Damage.

 

1,000

 / 

 

10,000
Non-tradable

Lasts 10 seconds
Uses a melee attack
Re-use while active will despawn current minion

Vampiric Emblem
Your attacks temporarily heal you for a portion of your Maximum Health

 

1,000

 / 

 

10,000
Non-tradable

Lasts 8 seconds
Each attack boosts health by 10%

Berserker Emblem
Sends you into a battle frenzy, increasing your Attack Speed and Movement Speed, and forcing you to use your main attack.

 

1,000

 / 

 

10,000
Adventure Pack
Non-tradable

Lasts 5 seconds
Boosts Attack Speed by 50 and Movement Speed by 40
Auto-attacks with basic attack, disabling all actions except moving and jumping

Master Cheep Emblem
Summons a temporary damage dealing ally to fight for you. This ally deals damage based on your Physical Damage.
Mastery rank 160
Non-tradable
0 mastery points

Lasts 10 seconds
Uses a melee attack
Re-use while active will despawn current minion

Master Magician's Emblem
Summons a temporary damage dealing ally to fight for you. This ally deals damage based on your Magic Damage.
Mastery rank 170
Non-tradable
0 mastery points

Lasts 10 seconds
Uses a melee attack
Re-use while active will despawn current minion

Megaminer Emblem
Increases Lasermancy temporarily
Bought from the Weaver of Wonders

Lasts 20 seconds
Boosts Lasermancy by 650

Bountiful Emblem
Has a chance to not consume a charge.
Bought from the Weaver of Wonders
Surestrike Emblem
Gives the player 20% Critical Hit
Bought from the Weaver of Wonders
Decoy Emblem
Summons a temporary decoy that will distract enemies from you
Bought from the Weaver of Wonders

Lasts 3 seconds
Functionally identical to Fae Trickster's decoy
Decoy spawned is twice as large as the user
Not affected by Vial of Minion Multiplication

Damage Reflection Emblem
Reflects damage taken back at the attacker.
Bought from the Weaver of Wonders
Beamer Emblem
Summons a temporary damage dealing ally to fight for you. This ally deals damage based on your Physical Damage.
Bought from the Weaver of Wonders

Lasts 10 seconds
Uses a ranged attack
Re-use while active will despawn current minion

Evil Eye Emblem
Summons a temporary damage dealing ally to fight for you. This ally deals damage based on your Magic Damage.
Bought from the Weaver of Wonders

Lasts 10 seconds
Uses a ranged attack
Re-use while active will despawn current minion
| Item | Effects | Type |
| --- | --- | --- |
| Bloodstorm Emblem | N/A | Emblem |
| Cygnus Centuwren Emblem | N/A | Emblem |