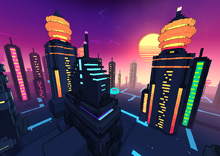 "
All the realm's aglow in the Neon City. Binary black skies and radioactive plasma surround its icy towers while steely sentries scout the ground below, computing the most efficient way to terminate your quest!
"
 
The Luminopolis is a sub-biome of the Neon City presented by the neon glowing "Tron" theme. It exists in Uber 3 leveled Adventure Worlds or higher and can randomly replace standard Neon City biomes. Plasmium and Robotic Salvage can commonly be obtained here, as well as several rarer resources such as Sentience Shards.
Both Neon City and Luminopolis biomes are displayed on the map as a navy blue biome with a watermark of a greyish circuit within the area of the map. This biome contains "Neon" grass (that gives Blue Primal Blocks) with darker shades of blue (that give Primal Purple Blocks) as dirt and grey as stone. There are smaller patches of data chips and core generators that act like grass from any other biome and can be broken to get Glim and Bombs. Rivers of plasma line across the ground that can be found anywhere in Neon City. When a player touches plasma, their energy is drained; when a robotic enemy touches plasma, they will be healed instead.
This highly technological world is full of futuristic city buildings that do not appear in the standard Neon City. It is being conquered by the Amperium working under C455-Andra, making it home to many robots such as Amperium Infantry Drones, Amperium Plasma Projectors, and Eyes of the Overlords. Gigastormers can also spawn as powerful world bosses here during hourly Rampages. Allied Resistors can spawn in Outpost Shrines that give players quests to help fight the Amperium.
This is the home of the Vanguardian.

Background theme when entering the Luminopolis.
Biome Colors
| Element | (R, G, B) | # | Color | Primal Block |
| --- | --- | --- | --- | --- |
| Grass | 048, 051, 055 | 303337 | | Primal Grey |
| Dirt | 033, 035, 038 | 212326 | | Primal Blue |
| Rock | 024, 026, 028 | 181a1c | | Primal Grey |
| Yellow Glow | 245, 233, 039 | F5E927 | | - |
| Green Glow | 077, 248, 063 | 4DF83F | | - |
| Blue Glow | 065, 199, 248 | 44C8F8 | | - |
| Pink Glow | 215, 058, 248 | D73AF8 | | - |
Contents
Resources
Enemies
Lairs
| | |
| --- | --- |
| Image TBA | Glitched Display Tower* |
| Image TBA | Luminopolis Platform* |
| | Arcade Machine* |
| | Neon Circle* |
*Unconfirmed names
Dungeons
| | |
| --- | --- |
| Image TBA | Luminopolis City* |
| Image TBA | Power Generator |
*Unconfirmed names
Seasonal
| | |
| --- | --- |
| | Christmas Tree (Snow fest) |
| | Pumpkin (Shadows eve) |