This is the main page on the Lunar New Year Dragon with details on everything with the breed of dragon. To see the Legendary Dragon, go to the page about Selene the Celestial Storm.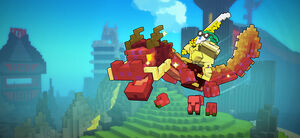 The
Lunar New Year Dragon
is a Chinese Lung
Dragon
celebrating the Lunar Chinese New Year. This mount was shown in the Trion Worlds stream on January 29, 2016. It was released in the
2/16/16 Patch
along with the ally
Shock
which celebrates the Year of the Monkey. This breed of dragon has special fireballs that give off firework effects. With the introduction to this dragon comes a different task on obtaining the legendary
Selene the Celestial Storm
and the Lunar New Year Dragon Stat Boost.
Players must now obtain this dragon through Dragon Eggs. Players can grab a Dormant Lunar New Year Dragon Egg from the game's Store for 10,000 Cubits (previously free for a limited time from February 16 to February 29). They can "hatch" the dormant egg by crafting the dragon at the Dragon Crucible using the additional resources for the egg (300 Dragon Coins, 25,000 Flux, 500 Primordial Flame, and the Dormant Egg). Players have the option to automatically unlock the dragon using the Golden Lunar New Year Egg which is obtain it rarely from a Greater Dragon Cache (was previously avalible from a special $100 pack that includes the egg).
Forms
The Lunar New Year Dragon only consists of one dragon, the legendary Selene the Celestial Storm. This dragon must be unlocked via crafting or the golden egg unlock.
Additional Unlocks (Badges)
Unlocking the dragon can be seen through the player's badges.
Community content is available under
CC-BY-SA
unless otherwise noted.