"
Vibrant flora and flittering fireflies dot the lush landscape of the Medieval Highlands, but don't be fooled by the peaceful demeanor of its verdant hills. Creatures may be skulking behind every tree trunk and thicket. If you see or hear a mushroom with legs, prepare to flee or fight!
"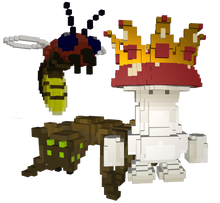 Medieval Highlands (also known to be called Deep Forest, Firefly Party, and Frigga's Fjord) is a Prime World biome spawned in all Prime adventure worlds. It is the first biome featured in the Trovian Atlas (in the Novice Adventure World), and among the first biomes players encounter after starting the game. It exists in any level Adventure Worlds and can appear in small patches or massive chunks of land. The items that can be obtained here that are randomly generated are Enchanted Wood and Mushroom Chunks.
Medieval Highland biomes is displayed on the map as a green biome with a watermark pattern of a tree patterned within the area of the map. This biome contains Green
Primal Purple blocks
with Primal Orange Blocks for dirt and Grey for stone. There are many patches of grass that players can destroy by basic attacks or run over by
Mounts
, which will give players
Glim
and a few occasional pickup of
Bombs
.
This biome is made up of large scale forest structures and massive castles to give it a "medieval fantasy" like world to Trove. Medieval Highlands are home to many different kinds of large scale bugs and large mushroom monsters.
This is the home of the Knight.
Concept
Fledgling heroes underestimate the peaceful demeanor of this lush Biome. Its beautiful trees and vibrant flowers mask creatures that skulk behind every trunk and thicket. If you see or hear a mushroom with legs, prepare to flee or fight!
Biomes in this group tend toward a classical fantasy look, with green grass, verdant growth, and scattered remnants of lost civilizations. These woods are mysterious, magical, and home to all sorts of woodland critters - some more dangerous than others, of course!
Decoration items from this type of zone should appear to be made of wood or basic metals, and can be somewhat anachronistic in nature. Examples of appropriate creations could range from a fancy gilded butter churn to a wizard's ritual table to a fully equipped, fiery Dwarven forge.
Weapons from these regions should also fit into fantasy tropes, albeit with quite a bit of flexibility. All manner of mundane and magical (and sometimes silly) weaponry fits within this group.
Biome Colors
| Element | (R, G, B) | # | Color | Primal Block |
| --- | --- | --- | --- | --- |
| Grass | 73, 173, 18 | #49ad12 | | Primal Green |
| Dirt | 198, 102, 25 | #4B382B | | Primal Orange |
| Stone | 69, 59, 52 | #43423D | | Primal Grey |
| Tree Bark (exterior) | 175, 87, 21 | #AF5715 | | Primal Orange |
| Tree Bark (interior) | 247, 237, 138 | #F7ED8A | | Primal Orange |
| Tree Foliage (light) | 36, 154, 58 | #249A3A | | Primal Green |
| Tree Foliage (dark) | 17, 142, 40 | #118E28 | | Primal Green |
Contents
Resources
Mobs
Beginner Lairs
Lairs
*Unconfirmed Names
Swarm Lairs
Dungeons
*Unconfirmed Names
Seasonal
Removed Lairs/Dungeons
Community content is available under
CC-BY-SA
unless otherwise noted.