"
Crafting Material. Can be gained through Gardening.
"
 

— Item Tooltip
Pumpkins are used as a crafting material at the Shadowy Station. They can drop from completed Pumpkin Lairs during 2014's Shadow's Eve event or can be grown through Gardening during the Autumn season. In 2015's Shadow's Eve, pumpkins dropped from Shadow's Eve Adventure Chests.
2015
Pumpkin lairs are back, maybe not the same, but they are back in peaceful hills biome just like sunlight bulb lairs.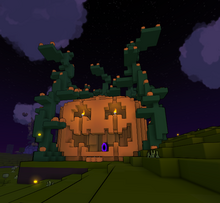 2019
Pumpkin lairs have returned! As of Shadow's Eve 2019, Pumpkin lairs can no longer be found in Peaceful Hills biomes instead, they can be found in Cursed Vale biomes. (Can be directly found through the Atlas in the Hub)
Crafting
Used to Craft
Shadowy Station
Result
Item (Quantity)
Portentous Portrait
Bleached Bone (3)
Pumpkin (5)
Primal Grey (15)
Creepy Cauldron
Sticky Ichor (3)
Pumpkin (5)
Primal Grey (20)
Dark Jack
Pumpkin (5)
Primal Orange (15)
Glowering Glare Jack
Primordial Flame (2)
Pumpkin (8)
Primal Orange (20)
Stacked Skulls
Bleached Bone (3)
Pumpkin (5)
Primal Grey (10)
First Row Scarecrow
Enchanted Wood (1)
Pumpkin (5)
Primal Red (10)
Sussurrating Spirit
Bleached Bone (2)
Pumpkin (5)
Primal Blue (10)
Spooky Standup
Enchanted Wood (1)
Pumpkin (8)
Primal Grey (12)
Coveted Candy Bowl
Faerie Dust (1)
Pumpkin (5)
Primal Purple (10)
Pumpkin Box
Mag Racer (5)
Enchanted Wood (100)
Pumpkin (1,000)
Smashing Pumpkin
Sticky Ichor (50)
Steed Feed (100)
Pumpkin (2,000)
Sugar Rusher
Candy Corn (100)
Steed Feed (200)
Pumpkin (1,000)
Faerie Dust (1,000)
Spirited Broomstick
Candy Corn (300)
Steed Feed (500)
Pumpkin (2,000)
Enchanted Wood (1,500)
Bleached Bone (1,500)
Drak-O-Lantern Dragon Egg
Flux (30,000)
Crystallized Cloud (4,000)
Pumpkin (4,000)
Hyperactive Haunt
Candy Corn (100)
Flux (30,000)
Pumpkin (500)
Enchanted Wood (600)
Bouncy Black Bat
Candy Corn (100)
Flux (30,000)
Pumpkin (500)
Somber Soul (30)
Mobile Mummy
Candy Corn (100)
Flux (30,000)
Pumpkin (500)
Blank Scroll (100)
Giant Pumpkin Pie
Pumpkin (50)