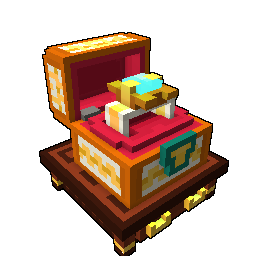 Ringcrafting is a profession that can be advanced at a Ringcrafting Bench. As evidenced by its name, Ringcrafting is focused on crafting Rings to power up classes. There are four different types of rings that give one main stat (Physical damage, Magic damage, Lasermancy, Maximum Health) plus a random secondary stat. Rings are not obtainable anywhere else except for ringcrafting, or trading with other players, making this an extremely useful profession to have.
Like all professions, you gain points by crafting items that are in the newest unlocked tier. Each player has their own Ringcrafting Level. Rings are separated into 6 different categories or tiers of Ringcrafting, blocked by your character's Ringcrafting level. The tiers for Ringcrafting are as follows: Newbie, Dabbler, Enthusiast, Jeweler, Master Ringcrafter, and Lord of the Rings. Players can gain one point per item crafted, of which 50 points are required to advance to the next tier. The tiers go by 50's, starting from level 0 to level 50, 100, etc. until level 250, which is the maximum Ringcrafting level. You gain one level for every item you craft in your most recently unlocked tier.
There are four different types of rings that can be crafted at the Ringcrafting Bench. These include: The Delving Ring, The Wisdom Ring, The Vitality Ring, and The Power Ring. The Delving Ring assists in mining by providing lasermancy. The Wisdom Ring provides magic damage. The Vitality Ring provides health and health regeneration. The Power Ring provides physical damage. The secondary stats are random but are set to specific stats:
Health Regeneration
Energy Regeneration
Jump
Stability
Critical Hit
Magic Find
Additionally, Ringcrafting requires a great deal of Diamonds, which can be crafted at the Ringcrafting Bench using Shapestone Ore, Primordial Flame, and flux.
How to level up Ringcrafting efficiently
While Ringcrafting can be very tedious and costly, it helps out with powering up classes.
Getting to the highest rank will allow the player to craft high tier ring boxes using Shadow Diamonds which can give Resplendent and Shadow rarity Rings. However, the ability obtain high leveled rings are highly RNG (a.k.a. Random Number Generation) based and will require more boxes to be crafted to get the highest leveled ring (currently at Shadow Level 4).
Level 0-50: 50 Diamonds (To obtain at least 250 Diamonds to craft all of the the next following tiers)
Level 50-100: 50 of any Shard Box
Level 100-150: 50 of any Brand Box
Level 150-200: 50 of any Ring Box
Level 200-250: 50 of any Loop Box
Recipes unlocked by Ringcrafting level
Tips
Dragonfire Peaks is the best place to farm for Shapestone Ore and Primordial Flame since they are the only types of Ore that are within the area (other than ores from other biomes within the boundaries of the Dragonfire Peaks).
In addition, the Medieval Highlands and the Permafrost Adventure Worlds are great to farm only Shapestone since they are the only ore that spawn in those worlds.
Community content is available under
CC-BY-SA
unless otherwise noted.