Battle some of the most challenging foes in Trove for your chance at amazing loot. Fear the servants of Q'bthulhu!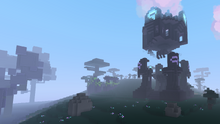 Shadow Arenas (or SA for short) are Dungeons that spawn rarely in Uber Worlds. They can be found in any Biome except the Peaceful Hills. Shadow Arenas contain the game's most difficult fights, and are the most effective means for collecting end game gear. The Arenas are locked when discovered and will need to be opened with a Shadow Key by holding the assigned Hotkey. Keys can be made from 50 Shadow Key Fragments at an Adventurer's Crafting Bench. Gems and fragments can be collected by completing Dungeons and Lairs respectively in Uber worlds. Fragments drop from defeating one star quests, while gems will drop from three star quests, and higher level Uber Worlds will drop more pieces per fight.
Players will need to find a Shadow Arena in an Uber World to be able to craft the Shadow Key in the Shadow Key Mold, which opens the Arena. Only one key needs to be used to let 8 players into the Shadow Arena.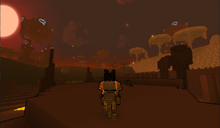 Preparing
Shadow Arenas are best approached as a group effort. A maximum of 8 players can join a Shadow Arena at one time. The best way to find other players to join your Arena is to communicate via chat. Use the chat to find others at an appropriate level, and to discuss the terms of your Arena runs. One of the best ways to run Arenas is to do key rotations, where each player brings a key and everyone goes in a specified order. Once players have been found, open the Arena and enter it. From here players can be invited individually using the command /joinme (username). This is the best way to create groups, as it ensures that no random players leech. Joining a Club that runs Shadow Arenas is another easy and fast way to find players for an Arena. If you catch a leecher, the hoster of the SA can do /kick to remove him.
After opening and entering the Arena, players will be teleported to the staging area. A dialogue box will sometimes pop up showing a class image, and players can use the Class Changer located in the staging area to change to that class if they wish.
The person who opens the arena has the last say about group members, and can choose to /kick username anyone they don't wish to be invited at any time.
The Fight
Shadow Arena always have 5 waves of mobs, which appear in the following order:
6/8 mobs of the same biome
2 Lair Mini-Bosses
8 mobs of of the same biome
2 Dungeon Bosses
The fight will not start until a player activates the totem in the center of the arena, which can be done by either pressing "E" or attacking it. Before activating the totem, groups should make sure everyone invited is present and has full potions. The monsters and numbers spawned will differ, depending upon the Uber level of the world the Arena was discovered in.
Building is restricted in Shadow Arenas, and no blocks may be placed or destroyed.
For another type of fight, see the Shadow Dungeon.
Dying & Wiping
Players automatically "die" if they enter the Arena after the fight has begun. If a player dies while in a Shadow Arena, their tombstone will not appear and there is no way to revive them. Instead, they must wait until the current wave is completed to be automatically revived.
If an entire party is killed (ie "wiped"), the Arena run will start over again from the beginning. Potions will be automatically refilled to the number on hand before the fight began.
Winning & Loot
At the end of the last wave, after killing Colossus, a chest will appear. This chest can drop Relic (Red), Resplendent (Rainbow) or Shadow items. Rarely, items like Eye of Q'bthulu, Shadow Banner Recipe, the Magic Carpet Mount, and the Wings of Darkest Night can drop. During certain Holidays or Events, the Shadow Arena may also drop themed items. Higher numbers of Holiday boxes drop in U4 and U5.
As of the 3/10 Patch, The chests will now drop Shadow Shards instead of Flux. 
Higher level Shadow Arenas will grant better loot drops and greater experience, with Shadow drops becoming more common, although they are also more difficult to complete. Monsters in U5 SA's are often buffed and have high HP, making them a difficult challenge for low level players or those with poor gear.
Completing Shadow Arenas also grants progress towards the completion of your Star Bar.
After The Fight
An orange portal will appear after Colossus is defeated, which takes players to the resting room when activated. This room contains a Trading Post, Rejuvenation Station, Class Changer, Deconstructor, Personal Chest and Style Saver, along with another Shadow Lock. The resting room is considered part of the Shadow Arena's world, and throwing a Portal Potion is all but useless here, since it only takes you back into the Arena.
As of the 3/10 Patch, there will now be a Shadowy Market at the end of the Shadow Arena/Dungeon to trade shadow shards for Shadow Caches that contain shadow respective items including rare shadow wings and Heart of Darkness. 
To exit the Shadow Arena, you must enter a Hub World or a Club World.
Community content is available under
CC-BY-SA
unless otherwise noted.