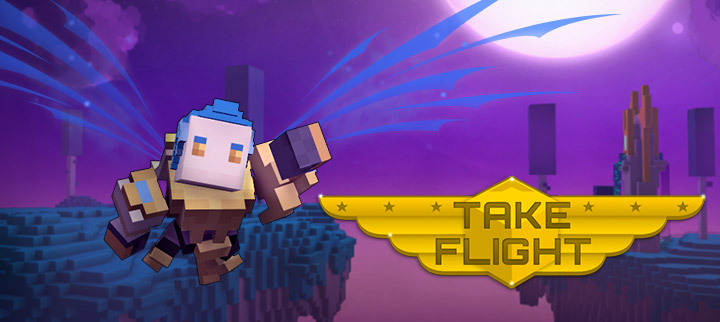 Wings are used by players to glide above ground, and are highly recommended for navigating through the Sky Realms. They're useful for covering a lot of ground at once and fly through great distances, and it's recommended for new players to obtain a set of wings as soon as possible. Prior to the Take Flight update, wings were exclusive to buyers of the Power Pack. Following the update, however, several new sets were added as unlockables, providing a free method of the utility for every player.
Some mounts have flight capabilities - to find them, see Mounts.
Controls
Holding the Jump key (Space by default) while in mid-air will activate the currently equipped wings.

Pressing this key with wings activated will deactivate them, making the player fall to the ground.

Holding the Move Forward key (W by default) will make the player nosedive forward and down.
Holding the Move Backward key (S by default) will stop most horizontal movement, making the player hover in the air and slowly fall to the ground.
Unless otherwise stated, almost all wings have a Movement Speed of 100, a Glide of 100 and are worth 100 mastery points each. Though, the Neophyte's Wings have 75 Movement Speed and 35 Glide.
Certain blocks, such as the Updraft Block, pushes you farther into the sky when glided over.
List
Item
Description
Obtained
Neophyte's Wings
Hold your jump key while in the air to unfurl your wings! Unlocked upon reaching Mastery Rank 5!
Mastery Rank 10
75 Movement Speed
35 Glide
Item
Description
Obtained
Stormcaller's Wings
100
Don't get struck.
1,500
Looted from Chaos Chests (when in rotation)
Wings of Darkest Night
100
And the sky fell dark and there was no moon to be seen.
Rare loot from Shadow Caches
Neon Nightsky
100
Take back the night.
Crafted at the Adventurer's Crafting Bench
Balefire Wings
100
Set the heavens aflame.
Given out by Trove streamers
(Code only)
Wings of Lunacy
100
Dark with lunar will, these wings have a mind of their own.
Bought in the Shadowy Market
Ladybug Wings
100
One beholder's beauty is another's terror.
Rare drop from Ladybug Invaders
Radical Rainbow Wings
100
WHAT DO THEY MEAN?!?!
Rare loot from Troves of Wonders
Wings of Unexpected Ascension
100
Through the power of magic take flight.
Claimed from the store for free for having at least 5 Patron Points during Turkeytopia.

Very rare drop from Turkey Stuffin' Box.

Wings of Shadowy Descent
100
Swoop upon your prey with shadowy vengeance.
Rare loot from Chaos Chests during Turkeytopia.
Wondrous Paragon Wings
100
N/A
Bought from the Weaver of Wonders.
Victorious Paragon Wings
100
N/A
Bought from the Battle Broker.
Luminous Paragon Wings
100
N/A
Bought from the Shadowy Market.
Wings of the Pegasus
100
Majestic wings of a majestic beast. Will they ever be reunited?
Rare loot from Light Chaos Vaults.
Wings of the Dark Pegasus
100
Majestic wings of a majestic beast. Will they ever be reunited?
Rare loot from Dark Chaos Vaults.
Wings of the Worldwatcher
100
Upon the breeze be borne, and let the world regale you with its wonders.
Square Necessities Pack.
Item
Description
Obtained
Wings of the Phoenix
100
Flame on.
1,500
Bloodseeker Wings
100
With darkness take flight.
1,500 / 15,000
Xero Line Wings
100
Soar higher than your dreams.
1,500 / 15,000
Looted from Chaos Chests (when in rotation)
Arcanium Discord
100
Steam-powered science gone bad.
1,500 / Arcanium Expedition Pack
Looted from Chaos Chests (when in rotation)
Soulfire Wings
100
Be borne aloft by the spirits of the dead.
1,500 / 15,000
Necrofancy Pack
Looted from Chaos Chests (when in rotation)
Windtunnel
100
It's a bird! It's a plane! Nope, it's YOU!
Vanguardian Pack
Vanguardian Super Pack
Crafted at the Resistor, Upgraded Resistor, and/or Overclocked Resistor Workbench
Item
Description
Obtained
Pearlescent Pinions
The truth is revealed to those who seek long enough.
Obsidian Quest Completion Badge
(25,000 quests completed)
Aquabatic Ailerons
Feel the flow and let the currents carry you.
Obsidian Fishing Badge
(15,000 items fished)
Dark Infineon Wings
Light up the night sky.
Obsidian Boxes Opened Badge
(12,000 boxes opened)
Midnight Mantle
Course across the night skies as serenely as the moon.
Obsidian Consecutive Days Logged In Badge
(45 consecutive days logged in)
| Item | Description | Obtained |
| --- | --- | --- |
| Tailwind Talisman | Mizaia's blessing, first conferred to she who led the way to new lands. | Brazilian Translation Reward |
| Item | Description | Obtained |
| --- | --- | --- |
| Oozing Pipe Dream Wings | Be careful of who's below when using these slimy wings. | Will be released in future patches. |
| Item | Description | Obtained |
| --- | --- | --- |
| Confetti Jetties | N/A | Will be released in future patches. |
| Item | Description | Obtained |
| --- | --- | --- |
| 30pxDefender's Drape | By Justice's might, take flight. | Will be released in future patches. |
| Gossamer Gliders | These delicate wings are perfect for high-speed maneuvering. | Will be released in future patches. |
| 30pxJunebug Wings | N/A | Will be released in future patches. |